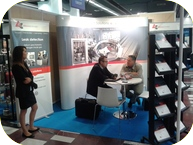 Every year, Alliance Concept takes part to key conferences as well as industrial and scientific trade fairs.
To each and every fairs, we invite you to meet us on our stand to discuss about current and future projects.
Do not hesitate neither to book a time frame in order to guarantee maximal availability of our technical sales engineers.

Whether you are interested in our systems for

Thin film deposition, based on

Vacuum technology or for

Leak testing, we'll answer all your questions.
See you soon at the next event!

Upcoming events

| Trade fair / Conference | Type | From | To | Booth number | Location | Country | Website |
| --- | --- | --- | --- | --- | --- | --- | --- |
| SVTM 2017 | Vacuum technology, surface/material treatments | 27/06/2017 | 28/06/2017 | 004 | Nice | France | Link |

Past events

| Trade fair / Conference | Type | From | To | Booth number | Location | Country | Website |
| --- | --- | --- | --- | --- | --- | --- | --- |
| PVTC 2015 | Photovoltaic Technical Conference | 27/05/2015 | 29/05/2015 | | Aix-en-Provence | France | Link |
| SVTM 2015 | Vacuum technology, surface/material treatments | 02/06/2015 | 04/06/2015 | 100 | Saint-Etienne | France | Link |
| Micro Nano MEMS 2014 | High precision manufacturing expo | 30/09/2014 | 01/10/2014 | Stand F12 [1] | Birmingham | U.K. | Link |
| N.I.C.E. 2014 | Conferences about surface nano-texturing | 15/10/2014 | 17/10/2014 | | Nice | France | Link |
| HIPIMS 2014 | 5th international conference on Fundamentals and Industrial Applications of High-power impulse magnetron sputtering | 02/07/2014 | 03/07/2014 | - | Sheffield | U.K. | Link |
| Toulouse space show 14 | Side event (B to B meeting) | 02/07/2014 | - | - | Toulouse | France | Link |
| SVTM 2014 | Vacuum technology, surface/material treatments | 11/06/2014 | 12/06/2014 | 84 | Reims | France | Link |
| Control 2014 | Quality assurance | 06/05/2014 | 09/05/2014 | Hall1, 1927 | Stuttgart | Germany | Link |
| Southern Manufacturing & Electronics 2014 | Manufacturing technology, electronics and subcontracting | 11/02/2014 | 12/02/2014 | E29 [2] | Farnborough | U.K. | Link |
| New Metallic Coatings and Innovative Surfaces | Workshop | 06/11/2013 | | | Friburg | Suisse | Link |
| EU PVSEC 2013 | Photovoltaic energy | 30/09/2013 | 04/10/2013 | 2/D23 | Paris | France | Link |
| IVC 19 | Vacuum technology, surface treatment | 09/09/2013 | 13/09/2013 | 100 | Paris | France | Link |
| XVe Colloque Louis Néel | Couches Minces et Nanostructures Magnétiques | 19/03/2013 | 22/03/2013 | | Tours | France | Link |